The silent screams of Pripyat, 30 years on
Comments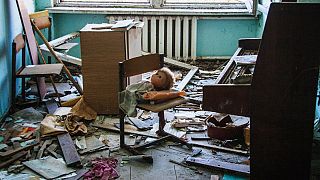 It's the silence that strikes one the most in Pripyat when you see the artifacts that once formed part of thousands of everyday human routines.
Symbols of individual lives that are now no more than memories. The stories they tell are told without words, without sound, and mostly to no one. But they are powerful, nevertheless.
The town was built for nuclear plant workers and has been deserted since 1986. It was abandoned almost instantly but residents were told they would return in a few days to reduce the amount of luggage they took. Like many pronouncements from the authorities at the time, it was a lie..
Now in the Chernobyl exclusion zone you are always accompanied by a guide who measures radiation levels and points out the places you can visit. The Chernobyl power plant can be photographed from just one spot.
Its in Pripyat where emotions are really stirred. Some areas are more contaminated than others. You must never step on grass or moss.
Visitors are often allowed to the hotel on the central square, you can see its restaurant with the pink walls on the pictures and the view from one of the rooms upstairs.
I visited a school and what seemed to be a local culture centre. I saw the theatre with stage lights collapsed; the swimming pool. Within walking distance of each other are a police detention center and a recreational park.
Unofficially, you can also meet with so called self-settlers – people who illegally returned to their homes in the exclusion zone. Mostly older people, they live in the deserted villages of the beautiful Ukrainian Polissya region in almost complete solitude. (According to the authorities there were about 200 of them in 2013) with very basic and facilities and infrastructure.
But the fact that they are there at all underscores the powerful bond between the land and its people.
Even the disaster could not break that.