Historic floods in Houston displace hundreds
Comments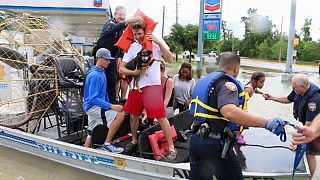 Major flooding in Houston, Texas has turned streets into lakes, and locals are bracing for yet more rain on Thursday (April 20).
This could bring floodwaters to their highest level in 500 years in some areas.
So far more than a thousand homes have been damaged, and at least eight people have died, mostly drivers trapped in their vehicles.
Watch this Houston driver escape his submerged car during a Texas flash flood. More here: https://t.co/9YwEa2ftuLhttps://t.co/cWPwrTNVhD

—

CBC

News (@CBCNews) April 18, 2016
Torrential downpours this week have dumped as much as 45 centimetres of rain in some areas, cutting out power for scores of homes and businesses.
Rescuers are evacuating hundreds of residents, shuttling them by boat and over to dry ground. Emergency shelters have been set up to accommodate them.
Rescue boats coming in w/people stranded at apartment complex surrounded by water in Kingwood. #KHOU11#houstonfloodpic.twitter.com/KldZEQHRyn

— Alice Barr (@AliceBarrKHOU) April 20, 2016
Officials are forecasting more rain and thunderstorms on Thursday, and warning of more floods from central Texas and into large parts of Louisiana and southern Oklahoma.
Some experts blame the city's quick expansion and urban planning that did not factor in enough flood protection.
Meanwhile in Houston! #houstonflood#prayforhoustonpic.twitter.com/oWrQicCfwO

— Eddie Jackson (@fitchefeddie) April 21, 2016