Killer Anders Breivik's human rights have been breached, court rules
Comments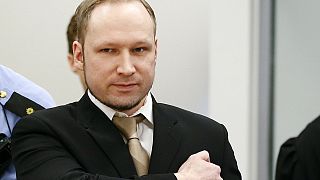 Norwegian killer Anders Behring Breivik has partly won a court case over his prison treatment.
He is serving 21 years for murdering 77 people.
The court ruled that the Norwegian state had not violated Breivik's right to privacy and a family life, however keeping him largely in isolation breached the European Convention on Human Rights.
Lawyers for the Norwegian state said they were surprised by the verdict and would consider whether to appeal.
Bervik's lawyer said his client would not appeal the part of the verdict that ruled against him.
The court also ruled that keeping Breivik in what they called a "completely locked world" violated his human rights.
The ruling found he had been woken up hourly by guards for long periods and he had been strip searched.
"I believe that you should enjoy legal protection in Norway and be able to put your cases on trial," Erna Solberg, Norwegian Prime Minister, told reporters. "It is up to the court to assess, and it is up to the parts of the state, those responsible for prison conditions, which must determine what to do next."
Breivik is convicted of killing eight people in this bomb attack in Oslo in 2011and then massacred another 69 on an Norwegian island to the northwest of the capital at a youth meeting of the Labour Party.