Broken vote accusations dog Clinton's New York victory
Comments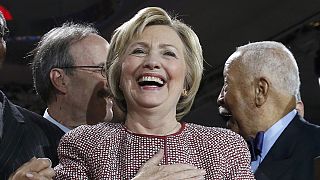 Hillary Clinton may have won big in New York, but there could be a negative fallout for the Democratic frontrunner if accusations of large-scale voter irregularities are proven correct.
Local City of New York sources admit Brooklyn, where large numbers of registered democrats dropped off lists, is six months to a year behind in updating voter registrations.
The numbers do not look like they would have made a significant difference unless they are just the tip of an iceberg. Beaten Bernie Sanders is crying foul.
"I am really concerned about the conduct of the voting process in New York State and I hope that the process will change in the future. I`m not alone in my concerns, the Comptroller of the city of New York talked today about voter irregularities," he said.
No ambiguity surrounded the Donald Trump win, an emphatic seal of approval from the larger-than-life city for the larger-than-life tycoon.
Several online petitions have been opened demanding an investigation into the New York vote, and the Mayor, Bill de Blasio , has also demanded an explanation. Campaigners for electoral reform insist the problem of unregistered voters is a nationwide one.