The Pope meets migrants and refugees on Lesbos
Comments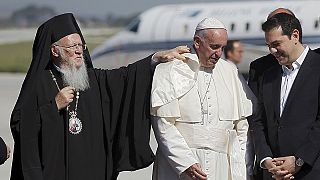 Short but highly symbolic visit
More than 3000 housed in camp
Memorial service for those who have perished
Comes with a strong moral message but no solution
What is happening?
Pope Francis is visiting a transit camp on the Greek island of Lesbos housing thousands of people.
He has been joined by Patriarch Bartholomew and the Archbishop of Athens, Ieronimos II.
They have been welcomed at the camp by thousands of people.
All three want to show support for the refugees and migrants who are trying to reach northern Europe.
The Vatican is also keen to emphasise its support for the Greek community who are taking care of those arriving on their shores.
The Pope says today's visit is to witness "the worst humanitarian disaster since the Second World War".
What did the Pope say in his speech?
Acknowledged the "great sacrifice" people in the camp have made
Wants to draw the world's attention to "this grave humanitarian crisis"
Urged the world to show "common humanity"
Drew parallels with the parable of The Good Samaritan
What difference will the visit make, in concrete terms?
The Pope comes with a strong moral message but no practical solutions.
The Vatican insists that the Pope's visit is purely humanitarian and religious in nature and should not be taken as any kind of comment on the political situation.
Why are there so many people on Lesbos?
There are more than 3,000 people in the Moria camp. Some face being deported to Turkey under a new agreement with the EU.
Thousands of people are stranded on the island as a result of the deal signed last month between the EU and Ankara.
What they are saying
"This is a voyage marked by sadness. We will witness the worst humanitarian disaster since the Second World War." – Pope Francis
"We will see so many people who are suffering, who are fleeing and do not know where to go. And we are also going to a cemetery, the sea. So many people never arrived." – Pope Francis
"We have travelled here to look into your eyes, to hear your voices and to hold your hands. The world has not forgotten you." – Patriarch Bartholomew
However, the Vatican official in charge of migrants, Cardinal Antonio Maria Veglio, has said the EU-Turkey plan treats migrants as merchandise and fails to recognise their dignity as human beings.