Cyberspace vs the State: Microsoft sues US govt in privacy row
Comments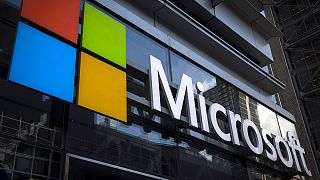 A new fight has broken out between cyberspace and the state.
Microsoft has announced it is launching court action against the US government in a row over privacy.
The company claims the state is violating the constitution by stopping it from telling customers about government requests to read their emails and other documents.
We've filed suit this morning to protect our customers' rights to privacy & free expression. Here's why. https://t.co/sZBFjtBmbM

— Brad Smith (@BradSmi) April 14, 2016
The US Department of Justice has yet to respond to the filing of the lawsuit in Seattle.
The issue has become even more pressing with an increasing number of people now storing data on remote servers, known as clouds, and not on their own computers.
Microsoft says this has given the government a new opening to access individual data.
"People do not give up their rights when they move their private information from physical storage to the cloud," says Microsoft in the lawsuit.
It adds that the government "has exploited the transition to cloud computing as a means of expanding its power to conduct secret investigations."
Microsoft says it has been prevented from informing its customers about government "online search warrants" in more than 2500 cases, mostly concerning individuals.
This is just the latest in a series of very public spats between internet giants and the authorities.
The companies maintain they should not be allowed to be turned into "agencies of the state".
Apple locked horns with the US government recently when authorities tried to get it to unlock an iphone used by a gunman.
Twitter is also involved in a separate legal row in California on the issue of informing users about government requests for information.
Elsewhere, in another case, Microsoft is fighting an order to hand over data held on a server in Ireland.
Microsoft sues the U.S. over privacy #MarketsNowhttps://t.co/kitmB2jWYppic.twitter.com/PzoOcgWyR0

— Reuters TV (@ReutersTV) April 15, 2016
Here's what's at stake in Microsoft's lawsuit against the Justice Dept. over data requests: https://t.co/3KlWCdv5Vipic.twitter.com/1uI6i19Nwd

—

ABC

News (@ABC) April 15, 2016
Microsoft is suing the feds over email privacy jmbrandonbb</a> <a href="https://t.co/EFaLLu0CFx">https://t.co/EFaLLu0CFx</a></p>&mdash; Inc. (Inc) April 15, 2016
Microsoft Wins Widespread Support in Privacy Clash With Government https://t.co/b9jrmCGIqW#infosec

— Dillon Townsel (@DilTown) April 15, 2016