Clinton and Sanders get personal in heated New York debate
Comments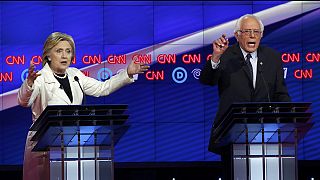 If you are both screaming at each other, the viewers won't be able to hear either of you
Rowdy debate in Brooklyn
Clashed on policy issues
Clinton way ahead in the polls
The news
US Democrat presidential hopefuls Hillary Clinton and Bernie Sanders have gone head-to-head in a final debate before next Tuesday's crucial New York primary.
Clinton, Sanders spar in uproarious debate https://t.co/JXDfMJ7vN6pic.twitter.com/vlfoECKnQR

— Reuters Top News (@Reuters) April 15, 2016
It was a home match for both.
Sanders was born in New York State. Clinton served eight years as its Senator.
Pump up the volume
It was a bruising encounter.
The Democrats have so far avoided the personal attack politics of the rival Republican camp.
But, with so much at stake, the tone of their debate has changed in recent days.
The rivals shouted in unison while an evenly-split but rowdy crowd at the historic Brooklyn Navy Yard roared its support.
What did they clash on?
2nd most-Tweeted moment for #DemDebate: Clinton & Sanders disagree on environmental policy plans https://t.co/XMkmrvpApI

— Twitter Government (@gov) April 15, 2016
This was the fifth one-on-one debate between Clinton and Sanders.
The mounting pressure of their White House marathon began to show.
They clashed on:
Wall Street
gun control
the minimum wage
support for Israel
---
Hillary Clinton

68
Leads Sanders by 251 bound delegates
Leads by almost 700 if "superdelegates" included

Bernie Sanders

74
Has won 7 of the last 8 Democratic nominating contests
However, these are small states that do not eat into Clinton's lead
What do the polls say?
The last nine opinion polls taken in New York state show Clinton with a double-digit advantage over Sanders.
Sanders – 173,000 mentions on Twitter
55% were positive
Clinton – 191.000 mentions on Twitter
56% positive
(Source: Brandwatch)
2,383 delegates are needed to win the nomination to represent the party in the presidential election on November 8.
Clinton so far has 2.4 million votes more than Sanders in the state-by-state nominating race.
What they are saying
"Does Secretary Clinton have the intelligence, the experience to be president? Of course she does, but I do question her judgement," – Bernie Sanders.
"Well, the people of New York voted for me twice to be their senator from New York and President Obama trusted my judgment enough to ask me to be secretary of State for the United States" – Hillary Clinton.
"If you are both screaming at each other, the viewers won't be able to hear either of you," – moderator Wolf Blitzer of CNN keeps his cool.