Greece and international lenders suspend bailout review talks as splits remain
Comments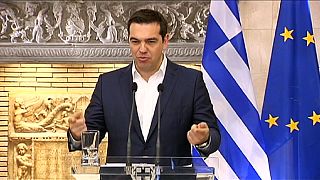 Talks between Greece and its international lenders on a crucial bailout review have been suspended until next Monday.
The main sticking point appears to be differences among the lenders over its projected fiscal shortfall by 2018, initially seen at 3 percent by the EU and 4.5 percent by the IMF, along with resistance from Athens on unpopular measures.
Joint declaration of #Greece PM Tsipras & #Portugal PM Costa → https://t.co/R3ZzwwgDTppic.twitter.com/YdgoogkM0i

— Yannis Koutsomitis (@YanniKouts) April 11, 2016
Prime Minister Alexis Tsipras believes the IMF is adopting the wrong policies in Greece after admitting mistakes in the previous two bailouts.
"In Greece the wrong policies have been adopted. And it is crazy that those who insist on the implementation also recognise that they are wrong, yet they continue to insist on implementing a mistake. They claim they are not wrong and continue to demand implementation. They add that we are not implementing them with good grace. At some point we need to get serious."
Greece can't just "tag along and expect things will be sorted out," Christine Lagarde says https://t.co/ImPSlvJoDIpic.twitter.com/pzUh4y82VZ

— Bloomberg (@business) April 12, 2016
A positive outcome to the review will free up to €5bn in aid. Athens needs the money to repay €3.5bn to the International Monetary Fund and the European Central Bank in July, as well as unpaid domestic bills.