Poland: six years since Smolensk crash
Comments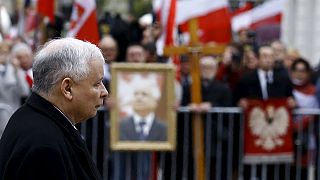 Jaroslav Kaczynski leads mourning
Inquiry into the crash is re-opened
Wreckage and flight recorders still in Russia
The news
Six-year anniversary of the crash that killed Polish officials in #Smolensk, Russia https://t.co/65nMFrQDgzpic.twitter.com/c0lnY9iyFa

—

UKRAINE

TODAY

(@uatodaytv) April 9, 2016
Poland's former prime minister has led a ceremony marking the sixth anniversary of the death of his twin brother.
Jaroslav Kaczynski has re-opened the inquiry into the Smolensk plane crash that killed his brother Lech in April 2010.
Marches have taken place across the country in memory of the former President.
President Andrzej Duda was also unveiled a plaque in honour of the country's deceased leader.
What happened?
Poles commemorate today the 6th anniversary of the 2010 Smolensk plane crash that killed 96, including the President pic.twitter.com/bXMsWCxggw

— Jakub Krupa (@JakubKrupa) April 10, 2016
Lech Kaczynski and his wife were part of a high-profile delegation of 96 who died when their plane crashed on landing in Smolensk in April 2010.
They were travelling to the area to commemorate the Katyn massacre of Polish nationals during the Second World War.
The wreckage of the plane and its black boxes are stiil in Russia, where they were sent for examination.
Accident or foul play?
Crash remembered by Polish leadership that scorns Smolensk story https://t.co/SLrCCPnH2Zpic.twitter.com/lR04ZxB3n2

— Global Issues Web (@globalissuesweb) April 10, 2016
The disaster is still the cause of bitter dispute.
An investigation by the previous Polish government with input from Russian experts blamed poor weather, pilot error and air traffic controllers for what it says was an "accident".
However, Jaroslav Kaczysnki's Law and Justice Party refuses to accept the finding and suspects foul play.
The Law and Justice Party
Centre-right
Returned to power October 2015
Promised in manifesto to reopen inquiry
Rejects finding of Donald Tusk government that crash was an accident
No proof has so far been offered in support of the claims
What they are saying
"With great probability, practically with certainty, we can say that the plane broke up in flight. Photographs show the plane debris scattered before the birch trees which it is supposed to have caught with its wing." – head of the new inquiry commission, Waclaw Berczynski
"The Law and Justice Party is continuing its political dance on the tombs of the victims" – Rafal Grupinski from the liberal opposition party, Civic Platform.