Kerry salutes Iraq's progress in retaking ground from ISIL
Comments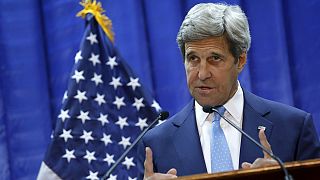 The US Secretary of State John Kerry has been in Baghdad to show support for Iraq especially over its battle against the so-called Islamic State.
During his first visit to the country since September 2014, he met Iraq's Foreign Minister Ibrahim al-Jaafari and, later, the Prime Minister Haider al-Abadi, who has shaken up the establishment by proposing a cabinet reshuffle aimed at curbing corruption.
With the government in Baghdad embroiled in domestic turmoil, the US is worried about the impact on the struggle against ISIL (or Daesh as Kerry calls the extremists) – but he saluted progress made so far.
"Daesh is getting weaker by the day and the coalition strategy of supporting Iraqis with equipment, with training and airstrikes, is working. The fact is, in Iraq, Daesh fighters have not been on the offensive in months. They are losing ground including 40 percent of territory that they once controlled in Iraq," Kerry told a news conference.
At press conference in #Iraq today, JohnKerry</a> gave update on fight against Daesh, announced humanitarian assistance <a href="https://t.co/nQjHl9vKdP">https://t.co/nQjHl9vKdP</a></p>&mdash; Department of State (StateDept) 8 April 2016
The Secretary of State announced $155 million (136 million euros) in humanitarian assistance for Iraq's conflict-hit areas.
According to Kerry, there has been no request from Baghdad for more US troops.
Iraq says its forces – backed by US-led coalition airstrikes – have been attacking the ISIL-held town of Hit, some 130 kilometres northwest of Baghdad.
The defence ministry says the militants suffered heavy losses to personnel and equipment.
The area is strategically important as it takes in an ISIL supply line linking Iraq and Syria.