Volvo plans to test self-driving cars in China
Comments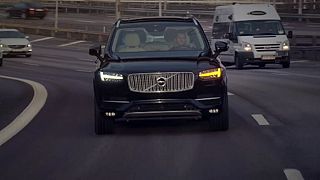 Up to 100 self-driving cars are set to be given a test run on the roads of China.
Volvo is planning to run an experiment, in which local drivers would try out autonomous vehicles in everyday conditions.
The automaker, which is wholly owned by a Chinese group, is scouting for a city to do it.
It is unclear at this stage when the tests would start.
Volvo Cars announces plan to launch China's most advanced AD experiment. Could China take the lead? #futureofdrivingpic.twitter.com/pNJGwRbfeM

— Volvo (@volvocarsglobal) 7 April 2016
Beijing has pledged to embrace futuristic technologies, such as self-driving cars.
The China experiment will be patterned after Volvo's own similarly set-up testing programme in the Swedish city of Gothenburg that aims to start deploying self-drive test cars next year.