Panama papers a 'western effort to weaken Russia' - Putin
Comments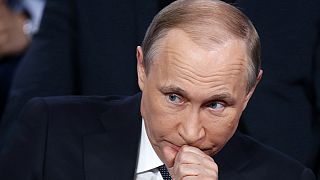 Russian President Vladimir Putin has rejected his alleged links to offshore accounts revealed in the Panama papers and has called the leaks part of a US-led effort disinformation campaign waged against Russia to weaken its government.
What element of corruption? There is none.
Putin said that a friend of his named in the Panama papers had done nothing wrong. Media reports detailed Sergei Roldugin, had built a business empire involved in offshore transactions that might be traced to Putin.
Speaking to supporters in St Petersburg he said: "Our opponents are above all concerned by the unity and consolidation of the Russian nation, our multi-national Russian people. They are attempting to rock our us from within, to make us more obedient," he said. "So they've created an information product".
"The President of Russia has a friend, who possibly did something, it has an element of corruption. What element of corruption? There is none…Now concerning Sergei Roldulgin. He is not just a musician. He has the rank of a People's Artist of Russia…
He is a minority share-holder in one of the companies. He earns something there, but those are not billions of dollars. It is rubbish."
Roldugin has yet to comment on the leak.
Wikileaks pointed to the money behind the Panama leaks being from the US.
US govt funded #PanamaPapers attack story on Putin via USAID. Some good journalists but no model for integrity. pic.twitter.com/5MnZbB6Zwz

— WikiLeaks (@wikileaks) April 6, 2016
The President's spokesman also dismissed allegations as the result of 'Putinophobia' and claimed that the journalist consortium behind the investigation included former CIA employees.
Yesterday a poster of Putin in a Panama hat appeared in Moscow ("What Panama?"). By evening it was gone. pic.twitter.com/inaJ0qCVHt

— Steve Rosenberg (@BBCSteveR) April 7, 2016