First Asian woman takes to the green baise in world snooker qualifier
Comments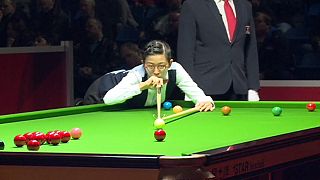 Ng On-Yee has become the first Asian woman to play in a Snooker World Championship qualifier.
She took to the green baise at Ponds Forge in Sheffield, only a few hundred meters from The Crucible where the main tournament will be held later this month, Ng struggled with nerves as she went down 10-1 to Peter Lines.
Still friends! Peter Lines and Ng On Yee after they were paired together in the WC qualifying draw a short time ago pic.twitter.com/fJFVPeiabC

— Matt (@ProSnookerBlog) April 4, 2016
"I think this is the biggest competition in the world, I was quite nervous in the game, but it was tough. Because Peter Lines is a good player, so it was a tough game. We'll discuss with my coach to see how do I feel and I hope I will play better tomorrow."
She was given a wildcard to compete in the qualifier after winning the 2015 World Ladies Championship.