Breakthrough for Ted Cruz as he scores a double-digit win over Trump
Comments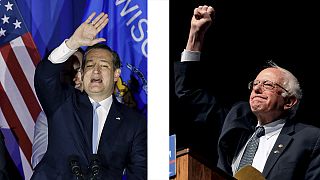 Cruz wins double-digit win over Trump
Sanders builds on his recent run of wins
Clinton needs to get back on track
Wisconsin primaries have breathed new life into the presidential nomination race with victories for both Ted Cruz and Bernie Sanders.
Republican Cruz notched up a convincing double-digit win over Donald Trump's divisive presidential candidacy, dealing a blow to the billionaire's chances of clinching the Republican nomination before the party's summer convention.
Considering the large margin win for TedCruz</a> in the <a href="https://twitter.com/hashtag/WisconsinPrimary?src=hash">#WisconsinPrimary</a>, I&#39;d say tonight was another <a href="https://twitter.com/hashtag/Cruz?src=hash">#Cruz</a> home run! <a href="https://t.co/QzArMpZchz">pic.twitter.com/QzArMpZchz</a></p>&mdash; aaSANDesign (aaSANDesign) April 6, 2016
On the Democratic side Bernie Sanders has eaten into rival Hillary Clinton's delegate lead, extending his recent stretch of six out of seven victories. Sanders still faces an uphill struggle but his message of economic populism continues to resonate.
Got to love that mainstream media lol- they still can't believe – but we know the truth- the DNC needs to wake up… https://t.co/j1EjAnQyew

— Flagstaff for Bernie (@FlagLovesBernie) April 6, 2016
The campaign now moves to large north-eastern states, where polls show Trump holds a significant lead. His loss in Wisconsin comes after a rocky week for the campaign, particularly with female voters over his views on abortion. The New York businessman repeatedly struggled to articulate his position on abortion. At one point, he called for women to be punished for having abortions, then quickly changed his mind.
Trump will also have to bounce back in the face of searing attack ads by Republicans bent on stopping him, persistent questions about his demeanor and campaign organization, and a single ascendant challenger in Cruz.
However Trump entered Tuesday with 737 convention delegates to Cruz's 481, leaving him 500 short of the 1,237 needed to become the party nominee in the Nov. 8 election.
Before Tuesday, Clinton led Sanders by 263 pledged delegates in the race for the 2,383 needed to be nominated at the party's July convention in Philadelphia. She also has a big lead in so-called "superdelegates", who are party leaders free to back any candidate.
Only thedailybeast</a> would write this "<a href="https://twitter.com/BernieSanders">BernieSanders Wins Wisconsin, Changes Nothing" #tytlive#FeeltheBernhttps://t.co/Er6JFu57Qm

— Jordan (@JordanChariton) April 6, 2016
Sanders needs to win up to two-thirds of the remaining delegates to catch Clinton who will keep accumulating delegates even when she loses under a Democratic Party system that awards them proportionally in all states.
However Clinton now faces an important contest in New York later this month and will be under increased pressure to get her campaign back on track. But she still holds a sizeable lead and most analysts say she will eventually become the Democratic nominee despite her recent losses.