Yao Ming inducted into the Basketball Hall of Fame
Comments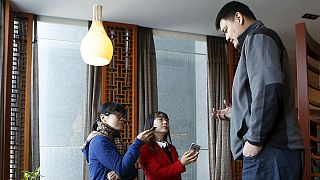 Yao Ming the eight-time NBA All-Star is poised to be inducted into the basketball hall of fame.
The 6ft 7in-tall player, who has spent his NBA career with the Houston Rockets after being drafted No.1 pick in 2002, joins the likes of Shaquille O'Neal, Allen Iverson.
Ming spoke of his pride in being inducted: "First of all I'm very surprised of course, just like everyone else.
And I'm very honored to be part of this list. I also know who is on this list – Shaquille O'Neal, AI [Allen Iverson] and other great guys from basketball history. That's why I feel really honored to be here."
MIng has been credited for the rise in popularity of the sport in China, his home country, and won praise as a respected player and ambassador of the game
As the anchor of the Chinese National Team, he was voted the most vaulable player three times in the FIBA Asian Championship.