Islamists down Syrian government aircraft capturing pilot
Comments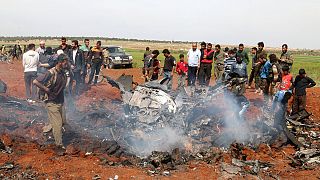 Islamist rebels have shot down a Syrian government aircraft over Aleppo.
Reports suggest that militants from the Nusra Front have captured the pilot alive.
Syria army jet downed, pilot captured in Aleppo AJENews</a> <a href="https://t.co/aZqRvUa65a">https://t.co/aZqRvUa65a</a></p>&mdash; Nakkeeran (Lathanakkeeran) April 5, 2016
The Syrian government has confirmed that one of its planes has been shot down by a surface-to-air-missile while on a reconnaissance mission.
Syrian pilot shot down south of Aleppo reportedly captured by al Qaeda-linked Al Nusra Front https://t.co/0GO3g2GNJ3pic.twitter.com/rHf5aa1Yx9

— Sky News (@SkyNews) April 5, 2016
A regime search and rescue operation is underway.
In another development the Syrian state news agency SANA is reporting that ISIL fighters have attacked Deir al-Zour military airport with "rockets carrying mustard gas causing some people to suffocate."
Swathes of Deir al- Zour City in the north east of the country have been besieged by ISIL for months.
The UN has begun a programme of aid drops to the 200,000 people trapped within the city.
UN makes first humanitarian aid airdrop in besieged Syrian city of Deir al-Zour https://t.co/jTLJQDhazapic.twitter.com/ZOxBoF2ZD9

—

IBT

imes UK (@IBTimesUK) February 25, 2016
The airport is the one remaining strategic asset in the area controlled by Assad's forces.
It is not the first time accusations of chemical attacks have been reported in Syria.
The government has issued numerous denials that it had used chemical weapons.
Under a United Nations programme Syria is supposed to have been free of chemical weapons since June 2014.