HSBC and Credit Suisse denied helping clients cheat on tax
Comments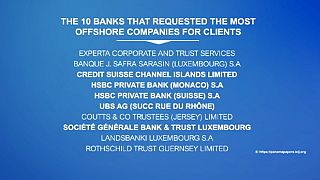 Two of the biggest banks at the centre of the Panama Papers revelations have rejected claims they were actively using offshore accounts to help clients cheat on their taxes.
HSBC and Credit Suisse are among several firms that set up complex structures according to researchers. Analysts say, regardless of the truth, its another public relations nightmare for the industry.
"We should say that as of now there's no evidence that HSBC, Credit Suisse or any other banks have been linked to any impropriety in Panama," said Matthew Beesley of Henderson Global Investors. "But of course this raises the spectre of further involvement in what is being seen and what is still seen as a shady industry, and one where banks in the past have been fined for aiding and abetting certain individuals and corporations for not paying their full amount in tax owed to individual geography."
In total more than 500 banks and their subsidiaries registered nearly 15,600 shell firms with Mossack Fonseca for their wealthy clients.
French bank Societe Generale has accounted for 979 offshore companies it set up through Mossack Fonseca. The bank said in a statement on Monday that it has "a proactive policy with regard to the fight against fraud and tax avoidance."
But many others, like Swiss bank UBS, which has already fallen foul of US and German authorities to avoid prosecution, haven't yet been as forthcoming.
In 2009, UBS paid around $780 million to avoid prosecution in the U.S. for helping Americans hide money in Swiss bank accounts. It paid about 300 million euros ($341 million) in 2014 to settle a similar probe in the German state of North Rhine-Westphalia.