Greece 'postpones' next batch of migrant deportations to Turkey
Comments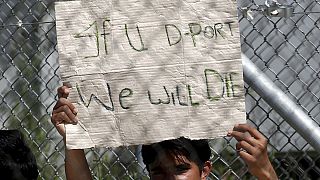 Greece has postponed the return of the next group of migrants to Turkey until Friday, according to reports quoting at least one Turkish official.
The official claims Greece has faced a surge in asylum requests from migrants, preventing them from being sent back.
Amid anger among migrants detained at a centre on the island of Lesbos, the deal between the EU and Turkey was again castigated as "careless" and "fast-track".
"The EU and Greece is doing something really disturbing and illegal and they're just treating refugees as human trash which should be cleaned away and this is a tragic development," said Wenzel Michalski, Director of the German branch of Human Rights Watch, speaking from Lesbos.
Turkey has said it is ready to take in another 200 migrants deported from Greece. A similar number were sent back on Monday.
Meanwhile the pope is to visit Lesbos next week, according to the Greek government.
In northern Greece refugee children staged their own demonstration at Idomeni – where migrants have been prevented from crossing into the Former Yugoslav Republic of Macedonia.
They marched on railway tracks in the buffer zone between the two countries demanding that the border be opened.
Police gave permission for the children to reach the border gate. The children left flowers on the fence and threw some on the other side of the border where FYROM police stood guard.