Bordeaux carries out mock terrorist attack ahead of Euro 2016
Comments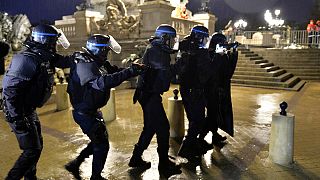 With the Brussels and Paris attacks fresh on everyone's mind and France poised to host the Euro 2016 football tournament.
Authorities in the French city of Bordeaux simulated a terrorist operation.
The idea is to assess the capacity of security and emergency services.
Actors posed as attackers on the streets of the city before police stormed a mock terrorist hideout.
Around 500 police and firemen took part in the drill.
The event was watched by minister of the interior and health Bernard Cazeneuve and Marisol Touraine.
Five Euro 2016 matches will be played in Bordeaux this summer, including two-time defending champions Spain's Group D meeting with Croatia and one of the quarter-finals.