"Panama papers" pick out stars and top officials in football
Comments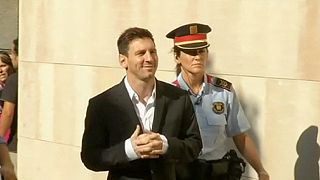 No stranger to the spotlight, the world of football figures firmly in the "Panama papers" with players and top officials in the game's governing body named.
Argentina and Barcelona forward Lionel Messi and his father, Jorge Horácio, allegedly own a shell company, Mega Star Enterprises. It's understood to be unknown to Spanish authorities currently pressing criminal charges against the pair over tax evasion.
Messi and his family were quick to strongly deny any involvement in shading off shore dealings in Panama.
Suspended UEFA chief Michel Platini, who is currently serving a six-year ban from football over a secret payment, turned to Mossack Fonseca to help him administer an offshore company created in Panama in 2007.
The Frenchman has reportedly given all his accounts from that period to Swiss authorities where he's resident for tax purposes.
And FIFA is facing fresh embarrassment weeks after its new chief Gianni Infantino pledged to clean up corruption.
Juan Pedro Damiani, an ethics committee member, is said to have had business ties with three men indicted in the corruption scandal engulfing football's governing body