'Panama Papers:' How are taxes avoided and assets hidden?
Comments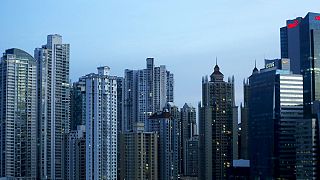 Holding money in offshore companies is not illegal. But in the wake of the "Panama papers" leak, it is claimed there is evidence of funds being hidden for tax evasion, money laundering and sanctions busting – along with drug deals and other crimes.
Of the companies that appear in Mossack Fonseca's files, half of them were apparently incorporated in the British Virgin Islands – more than 113-thousand.
The second favourite jurisdiction is said to be Panama, where Mossack Fonseca is headquartered.
The Bahamas and Seychelles are among other islands identified.
The Most Popular Tax Havens In The Panama Papers [Infographic]: A massive leak of eleven milli.. #business#newshttps://t.co/RmDEz6p8ub

— Jon (@rivercityjon) 4 avril 2016
Assets can be hidden and taxes dodged in lots of ways.
So-called shell companies have nothing inside, they just manage money and can hide who owns it.
An Offshore Financial Centre, what is often called a tax haven, is somewhere providing secrecy, while most banking services are legal.
And then there's money laundering, which involves making "dirty" money good for use without raising questions.
New Zealand is identified among a wider list of 21 tax havens used by Mossack Fonseca.
Prime Minister John Key has issued a defence.
"New Zealand has had the same tax laws when it comes to trust since 1988. New Zealand also had a review undertaken by the OECD (Organisation for Economic Co-operation and Development) in 2013 and they gave New Zealand a clean bill of health," he said.
But the door has been opened on a vast trove of documents and data on offshore financial dealings and the questions will not abate. It's a massive leak that casts light on the tactics used by some of the rich and powerful to avoid taxes and skirt financial oversight.