Migrants arrive in Turkey after being sent back under EU deal
Comments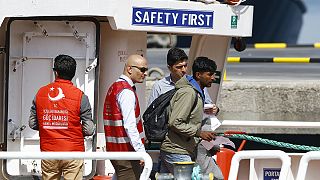 Migrants sent back from Greece began arriving in Turkey on Monday after the EU's disputed deal with Ankara to stem the influx of asylum seekers into Europe came into effect.
In moves denounced by refugee agencies and human rights campaigners, the first two boats carried more than 130 migrants to the Western Turkish town of Dikili.
The returnees, travelling from Lesbos, were said to be mainly from Pakistan and Bangladesh.
They had been taken from holding centres on the island and put on boats early on Monday morning.
The first #deportations of #refugees in line with the EU-Turkey pact are now underway https://t.co/Yx1ecFn42Spic.twitter.com/wHqQkKxgzW

— UNHCR Central Europe (@RefugeesCE) 4 avril 2016
Under the accord, all migrants arriving illegally in Greece after March 20 face deportation to Turkey if they fail to apply for asylum or if their claim is rejected.
Amid tight security, the migrants boarded the boats calmly, although there were protests on both sides of the Aegean Sea.
Activists say facilities for the migrants are inadequate. Some claim Turkey is not a safe country for refugees.
Amnesty International has called the deal 'an historic blow to human rights'.
The first transfers back to Turkey came as migrants and refugees continued to arrive on Greek shores.
This family arrived to #Lesvos yesterday but the family shelters at #Moria are full so they wait outside. pic.twitter.com/r4KV7OPNPS

— MSF Sea (@MSF_Sea) 2 avril 2016
Under the deal, for every Syrian sent back, another Syrian will be resettled to Europe, directly from Turkey.
The first group of 16 Syrian refugees have arrived in Germany by plane from Turkey, German police said on Monday.
The 16 migrants landed in the northern city of Hanover in the morning on a scheduled flight from Istanbul, with more new arrivals to follow.