Flights resume at Brussels Airport
Comments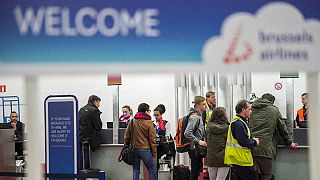 Air traffic at Brussels Airport is increasing gradually, two weeks after suicide bombers blew themselves up in its departure hall, killing 16 people and injuring dozens.
Passengers and their luggage are now being processed through new check-in procedures, before entering the airport, in temporary structures.
Airport authorities says traffic will slowly increase over the coming days and should be fully restored by July, in time for the summer vacation season.
On Monday, the check-in area looked deserted, as Brussels Airlines was the only company operating 20 arrivals and 19 departures to and from the airport.
Some passengers found the experience unsettling.
"We walked through parking lots that are normally full and now stand completely empty. And there are police and soldiers everywhere. That does something to you," one man said.
The March 22 suicide bombings that ripped through Brussels Airport and the city's Maalbeek metro station killed 35 people and injured more than 300. The attacks were claimed by the group calling itself Islamic State, or ISIL.