Unstoppable Riner wins 18th straight tournament as French judokas shine at Samsun Grand Prix
Comments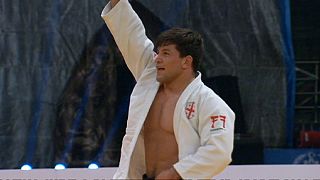 The French contingent maintained its stunning showing all the way to the third and final day of the Samsun Grand Prix on Sunday.
The highlight of the day for judo fans was the appearance in the +100kg final of the sport's global superstar Teddy Riner.
The eight-time world, four-time European and current Olympic champion won his 18th straight tournament by beating Levani Matiashvili from Georgia.
The 26-year old Frenchman won with his trademark uchi-mata for a waza-ari with one second remaining.
Riner has not lost a fight in the heaviest of weight categories since 2010.
Youth and determination rewarded
Beka Gviniashvili's decision to move up a weight class appears to have paid dividends as the 20-year old judoka from Georgia won the -100kg final.
In the finale he beat world number 29 from Brazil Rafael Buzacarini.
The fight went the five-minute distance but the Georgian youngster struck gold courtesy of an early yuko score.
The victory has edged Gviniashvili closer to a spot at the Rio Olympics.
Khalmurzaev wins -90kg gold
Russia's Khusen Khalmurzaev reigned supreme in the men's -90kg final.
He beat Mammadali Mehdiyev from Azerbaijan in a penalty-filled fight.
In total Mehdiyev received three penalties over the course of the final leaving him one shy of disqualification.
Khalmurzaev – who had two penalties himself – then tactically kept this advantage to the gong to celebrate his first Grand Prix victory.
Allez les Bleus
France put two athletes in the same final for the third straight day as Audrey Tcheumeo and Madeleine Malonga reached the -78kg showpiece match.
Tcheumeo struck first with a waza-ari but discipline let the former world champion down and four penalties was enough to disqualify her and hand compatriot Malonga the win by ippon.
France ended the fourth Grand Prix of the season with a table-topping five gold medals, three silver and one bronze.
Kim takes final women's gold
Marine Erb gave France that Bronze in the +78kg contest which was eventually won by South Korea's KIM Jiyoun.
Kim struck the final gold medal on offer for the women in Samsun when she beat surprise package Melissa Mojica from Puerto Rico.
Kim took the top step of the podium after being awarded fewer penalties than her opponent – one penalty to Mojica's three.