Tensions rise between rival candidates in the US presidential race
Comments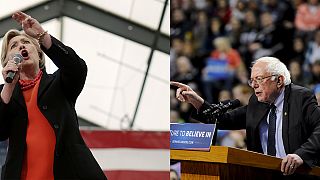 Tension between the US presidential candidates is rising ahead of more key primary elections, as they struggle to define their campaigns amid Donald Trump's domination of the headlines.
In a new row, Hillary Clinton's Democratic challenger has accused her of relying heavily on fossil fuel lobbyists.
Bernie Sanders told a rally: "According to an analysis done by Greenpeace, Hillary Clinton's campaign and her Super PAC have received more than 4.5 million dollars from the fossil fuel industry.
Clinton angrily hit out at Sanders, saying she was sick of his "lies".
But at the same time she has also had to tackle questions of security being ramped up by Trump and his main rival Ted Cruz.
Clinton said: "They don't understand that I've got a plan to defeat ISIS and it requires actually working with other nations, including Muslim nations that have to be part of our coalition."
And another of Trump's more controversial promises, the expulsion of millions of undocumented immigrants, is still a big talking point for his rivals.
John Kasich said: "If you think we're going to do well by saying that we're going to drive the police around in neighbourhoods, yanking people out of their homes and shipping them across the border to the tune of 11 and a half million, could you imagine the disruption in this country?"
Protests continue over recent Trump remarks.
He managed to bring abortion into the campaign, provoking anger after saying that women should be "punished" in some way if they have abortions.
Now though, after much public outcry, he says he would not change the current laws on the issue.