US health officials warn of mass Zika virus infections in Puerto Rico
Comments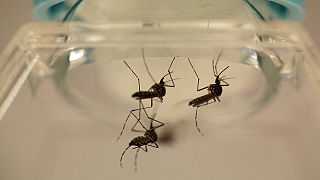 There is concern that hundreds of thousands of people on the US island territory of Puerto Rico could become infected with the Zika virus this year.
Warmer temperatures and rising mosquito populations are expected to bring the virus to southern US states within weeks.
US health officials met in Atlanta, Georgia on Friday at a conference hosted by the US Center for Disease Control and Prevention (CDC) to devise a plan to tackle the virus.
"The frontline of the battle against Zika in the US is Puerto Rico. And we are very concerned that Puerto Rico could have hundreds of thousands of Zika infections and potentially thousands of pregnant women infected with Zika," said CDC Director Dr Tom Frieden.
He added in an interview that Puerto Rico had neither good surveillance nor good control measures.
We need funds to put plans into action and boots on the ground to control emerging #Zika epidemic #ZikaSummit. https://t.co/c9CDzsPBfs

— Dr. Tom Frieden (@DrFriedenCDC) 1 April 2016
In its latest report, Puerto Rico's health department said there were 350 confirmed cases of Zika infection, including 40 pregnant women.
The "World Health Organisation declared a global health emergency':http://www.who.int/emergencies/zika-virus/en/ in February because of evidence that Zika can cause microcephaly, a rare birth defect defined by an unusually small head. In adults, the virus has been linked to the typically rare autoimmune disorder, Guillain-Barre syndrome.
First detected in Brazil, the virus is growing throughout the Americas.
Poverty and recession are hampering the response in Puerto Rico, where mosquitoes have already caused repeated outbreaks of dengue and more recently, chikungunya.
#Zika may spread through mosquito bites to some states this spring & summer. #VitalSignshttps://t.co/k3NxKsqiSKpic.twitter.com/IGgsq5UW3i

—

CDC

(@CDCgov) 1 April 2016