Obama warns about nuclear terrorism risk
Comments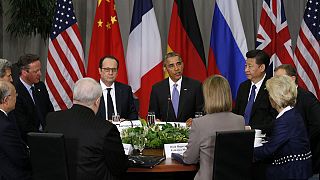 Hosting world leaders in Washington, US President Barack Obama has urged them to do more to safeguard their nuclear facilities amid fears that groups like ISIL and al Qaeda want to unleash radioactive "dirty bombs".
The threat of nuclear terrorism persists
"By working together, our nations have made it harder for terrorists to get their hands on nuclear material. We have measurably reduced the risk," Obama said at the 2016 Nuclear Security Summit.
"But, as we discussed at last night's dinner, the threat of nuclear terrorism persists."
Obama told the summit: "There is no doubt that if these madmen ever got their hands on a nuclear bomb or nuclear material, they would certainly use it to kill as many people as possible."
Last month's deadly attacks in Brussels have fuelled concerns that ISIL could target nuclear plants, steal material and develop radioactive "dirty bombs".
Nuclear giant Russia boycotted the summit, with President Vladimir Putin unwilling to join in a US-dominated gathering at a time of increased tensions between Washington and Moscow over Ukraine and Syria.
.@POTUS convenes the 2016 Nuclear Security Summit#NSS2016https://t.co/XQnzmYyqXv

— Department of State (@StateDept) 1 avril 2016
This is Obama's fourth and final such summit, focussed on efforts to lock down vulnerable atomic materials to prevent nuclear terrorism.
Obama said the required 102 countries had ratified an amendment to a nuclear security treaty that would tighten protections against nuclear theft and smuggling.
He inaugurated the first Nuclear Security Summit nearly six years ago, after a landmark speech in Prague in 2009 laying out the lofty goal of a world free of nuclear weapons.
When Obama leaves office in January, there is no guarantee that his successor, who will be elected in November, will keep the issue a high priority.