Brussels airport 'operationally ready' for partial reopening
Comments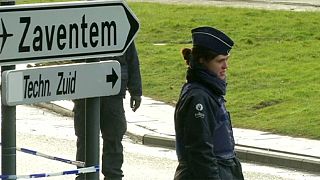 Brussels airport has a green light to partially reopen on Friday evening, but airport police are threatening a strike over that they say are 'lax security' measures.
The airport was given the go ahead from the Belgian Civil Aviation Authority and fire services for a partial restart of passenger flights.
However, Belgian daily Le Soir reports that police insist on having systematic security checks of every passenger entering the buildings, a demand so far not included in proposals.
Vincent Gilles, president of SLFP Police told Belgian broadcaster RTL that he was concerned to hear from colleagues that some baggage handlers had applauded the Paris attacks on November 13 which killed 130 people.
The national security council is due to meet on Friday to discuss the options for reopening. Prime Minister Charles Michel tweeted his hopes to reopen Zaventem airport 'as quickly as possible, but ensuring the safety of personnel and passengers'.
ll faut réouvrir le + vite possible aéroport mais en veillant aux conditions de sécurité pour personnel et passagers pic.twitter.com/9wWlV1smUU

— Charles Michel (@CharlesMichel) March 31, 2016
Under current plans a temporary departure area would allow the airport to deal with 800 passengers per hour, around 20 per cent of the normal capacity.
A full reopening could take months, as the infrastructure was severely damaged in the bomb attacks on March 22nd.
Brussels airport ready for partial restart of services https://t.co/s8RCsiNPxwpic.twitter.com/CoVI1zPi0U

— Wall Street Journal (@WSJ) March 31, 2016
Abdeslam extradition
Meanwhile, a Belgian court decided that Paris terror suspect Salah Abdeslam could be extradited to France.
It comes after his initial objection to being removed from the country following his arrest in Brussels just days before the terror attacks.
"Salah Abdeslam wishes to be transferred to the French authorities," lawyer Cedric Moisse told reporters. "He wishes to cooperate with the French authorities."
However, his extradition could take several weeks as Abdeslam is also wanted for questioning in relation to the Brussels bombings. Police believe attacks in both capitals were carried out by the same militant network.