Argentina passes deal ending debt battle with hedge funds
Comments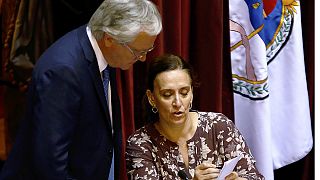 After a drawn-out debate, Argentina's Senate approved a deal that should put an end to a 14-year-old dispute with U.S. creditors over the nation's debt.
Argentina will finally repay so-called holdout creditors — a minority of hedge funds that fought steep cuts on their holdings as part of the country's 2005 and 2010 debt restructurings.
Argentina's Vice President Gabriela Michetti called the vote "historic".
"It's all about putting an end to this debt problem we've had with just seven per cent of creditors" she said.
Argentina finally resolving its 14-year debt saga https://t.co/CXM6bDopxL

— Tim Fernholz (@TimFernholz) March 31, 2016
Argentina lawmakers win approval for debt deal https://t.co/EO0gb7kD8Npic.twitter.com/0yxTqU7WuL

—

BBC

Business (@BBCBusiness) March 31, 2016
The vote is a boost for president Mauricio Macri, who campaigned on pledges to solve the debt crisis and restart Latin America's second biggest economy.
Still, demonstrators said there was no reason to celebrate what is also a victory for hardline hedge funds. Under the deal, Argentina must repay them $4.65 billion by mid April.
On the other hand, the settlement should allow Argentina to once again issue global bonds, which should allow it to invest and regain investors' confidence.
The dispute certainly left its mark and led to changes in how debt contracts can be restructured worldwide, to ensure a deal reached with a majority of creditors applies to all of them.