Starwood Hotels bidding war hots up as Anbang raises the stakes
Comments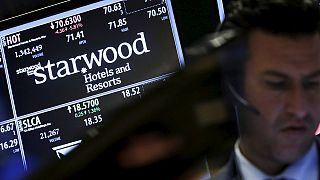 The bidding war for Starwood Hotels & Resorts is hotting up.
A consortium led by China's Anbang Insurance Group has raised its offer to almost $14 billion (12.5 billion euros) – better than Marriott International's bid.
Starwood, which owns the Sheraton and Westin brands, is attractive to Anbang because of its portfolio of prime US property assets, whereas Marriott want to create the world's largest hotelier.
If Anbang wins it would be the largest ever takeover by a Chinese company in the United States.
This drama is not done yet. Good piece by skift</a>: "The Inside Story of <a href="https://twitter.com/hashtag/Anbang?src=hash">#Anbang</a>'s Long Pursuit to Acquire <a href="https://twitter.com/hashtag/Starwood?src=hash">#Starwood</a>. <a href="https://t.co/HJ2c8TAzn2">https://t.co/HJ2c8TAzn2</a></p>&mdash; NewChineseTraveler (BowermanGary) 26 March 2016
Anbang's consortium, which includes private equity firms JC Flowers and Primavera Capital, has offered $82.75 per share in cash.
Marriott's latest cash-and-stock offer, which was announced on March 21, is currently worth around $78 per share.
Marriott has declined to say if it would increase its offer. In a statement, Marriott said it was confident the previously announced amended merger agreement with Starwood is the best course for both companies.
Starwood's shareholders are due to vote on the deal on April 8.
Marriott said in its statement that those shareholders "should give serious consideration to the question of whether the Anbang-led consortium will be able to close the proposed transaction, with a particular focus on the certainty of the consortium's financing and the timing of any required regulatory approvals".
An acquisition of Starwood by Anbang would probably face scrutiny by the Committee on Foreign Investment in the United States, an interagency panel that reviews deals to ensure they do not harm national security. However, sources have said both Starwood and Anbang believe that deal would receive clearance from the committee.
Starwood was also in the headlines recently because of its deal to run nationalised hotels in Cuba.