Greece: stranded refugees and migrants clash with police in Idomeni
Comments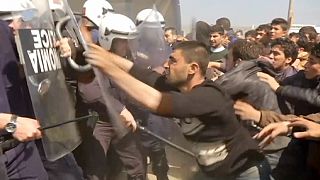 Protesting refugees and migrants on Tuesday clashed with Greek police in the border town of Idomeni, next to the closed crossing between Greece and the Former Yugoslav Republic of Macedonia (FYROM).
Every day we have tension, protests and pressure at the border
Tension flared as police officers tried to move people away from the railway tracks, where there have been daily protests calling for the Macedonian government to reopen the border crossing.
Some of the protesters threw rocks and stones at the police.
"Shutting the border has had the general effect of angering people," said Anestis Ischnopolous, a field coordinator for the NGO Praksis.
"They are still hoping that they might cross, but the border remains shut. And every day we have tension, protests and pressure at the border."
More than 11,000 refugees and migrants are gathered in Idomeni next to the closed border crossing.
James Nachtwey photographs the squalid conditions in #Idomenihttps://t.co/Ag78CG2w7B#refugees#photojournalismpic.twitter.com/izseMfIv3T

— Photojournalism (@photojournalink) March 28, 2016
Despite the squalid conditions in the sprawling makeshift camp, most of them do not want to leave.
Some are not ready to accept that the border will not re-open.
Others fear that if they go somewhere else, the conditions may be no better. Yet they will be further away from the border and, thus, further away from the chance to continue their journey to western Europe.
The Greek government has been providing buses since Friday to move people to official reception centres elsewhere in Greece.
However, by late Monday, only about 1,000 people had boarded the buses.