Palmyra is the latest gain for Assad regime in fight against ISIL
Comments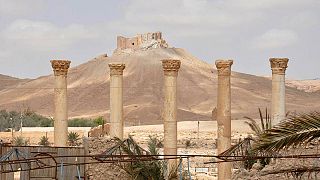 The noose is tightening round the so called Islamic State fighters. That's how some analysts interpret the fact the Syrian army has retaken the city of Palmyra.
For the jihadists it is the biggest loss since defeat at Kobani in January 2015 and shows they have lost some momentum. For the Assad regime it is a psychological and strategic victory. It allows him to regain control of the Syrian desert and move towards the border with Iraq.
Now Palmyra will become a central base to broaden operations against ISIL strongholds in Raqqa to the north and Deir Ezzor in the east, the army said in statement.
The support of the Russians and in particular the airstrikes on the jihadists positions since last September and the Hezbollah fighters and Iranian army have been key in putting ISIL on the defensive.
The regime grabbed Slama the stronghold of al-Nusra in Latakia on January 12 this year before taking Rabia which was the last rebel held bastion in the province. Then the Assad regime liberated Sheikh Maskin.
The city in the south of the country is in the province of Deraa. It is a strategic crossroads between Damascus and Suweida which are both in the hands of the regime.
Further advances by the regime followed. Once Shiekh Maskin was taken it was followed by the capture of Atman in the south. On February 25 Khanasir was recaptured.
The city of Khanasir is also on a strategic road and links the government quarters of Aleppo with zones held by the Assad regime in the centre of the country.
On the other side of the border in Iraq ISIL suffered significant defeats including that of Tikrit in March last year. In November the jihadists fighters lost Sinjar.
The city which has a majority population of Yazidis was taken by Iraqi Kurdish forces using aircraft of the coalition to strike. It was another strategic victory as an important link from Iraq to Syria used by ISIL was cut.
After weeks of fighting last month ISIL was driven out of their headquarters as the city of Ramadi in central Iraq was recaptured. It is one of the biggest cities in the country.
The Sunni city is another key strategic gain. It is the capital of the Al Anbar province which adjacent to Syria.
The Iraqi army is now on the offensive towards Mosul with aerial support from the international coalition. Fighting has started in surrounding villages. Mosul is Iraq's second largest city and a key target which ISIL captured just over a year ago.