Desperation in Idomeni - false information spreads about new route to western Europe
Comments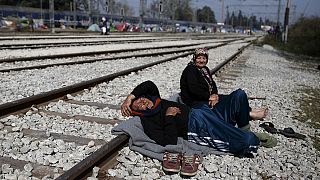 Where to next? Many refugees and migrants at the sprawling makeshift camp in the Greek border town of Idomeni are at a loss as to what to do now.
It's like we're drowning. We're living in an open prison, and we don't know how to get out
The Greek government has told them that the Macedonian border will not re-open, and is urging them to take the buses being provided to transport them to official reception centres elsewhere in Greece.
But on Monday, the camp is buzzing with rumours of another option. Leaflets are circulating that suggest a route to northern Europe through Albania.
"We want to know who posted these leaflets, so we can decide what to do. If it's not a credible source, how can we move?" says Abdelrahman, from Mosul, Iraq.
"It's like we're drowning. We're living in an open prison, and we don't know how to get out."
The UN refugee agency is trying to inform camp residents that they should not believe the misleading leaflets.
You can close borders, but you will not be able to destroy their hope on a better future. #Idomeni#refugeesGrpic.twitter.com/qeWqeTAM3W

— Erik Marquardt (@ErikMarquardt) March 28, 2016
There are many people who would rather stay in Idomeni than risk the unknown.
Since the buses started arriving on Friday to take the refugees and migrants to the reception centres, fewer than 1,000 people have boarded them – a small fraction of the estimated 11,500 camp residents.
Inas, a refugee from Syria, says she went to one of the reception centres elsewhere in Greece, but made the decision to return to Idomeni.
"It was a military camp, we were surrounded by army officials. You can't move freely and if you want to leave you need paperwork and other complications. It was really bad there."
Refugees and migrants have been staging daily protests at Idomeni demanding that the Macedonian border be reopened.