The swimmer who fled Syria: One refugee's story
Comments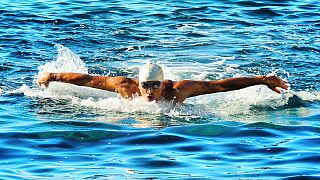 Ramy Kanaan does not want to speak by phone, he is afraid of misunderstandings.He knows how much damage they can cause.
The young Syrian from Latakia also knows clearly what he wants. "German is the key," he says. He studies the language every day.
In Syria, the 24-year old was a sportsman. He says he was in the national swimming team and took part in Arab championships. Many of his photos show a young man wearing sunglasses on the beach. Now Ramy Kanaan is training five times a week with Nordhorn in Lower Saxony in an outdoor swimming pool heated by the waste heat generated from nearby appartments.
The sports club contributes to his bus fare and has lent a bicycle for Ramy to travel from Schüttorf – where he lives – to the neighboring Nordhorn on the Dutch border to give swimming lessons.
"We did that because he could not speak any German when he came to us. He teaches these lessons with another coach and working with young children promotes his language development." explains Gaby Ekkelboom from Waspo-Nordhorn.
In May, Ramy Kanaan will move to Essen in the Ruhr region. Coach Jürgen Voigt of the SG Essen: //www.sg-essen.de/ has a good picture of Ramy. The swimming club has got him an apartment. The young Syrian will give swimming lessons for three to six year olds and above all help to integrate children with a migrant background through sport – also by involving their families.
Kanaan's parents still live in Latakia: his father is an engineer; his mother a biologist; both work. Ramy does not want to talk about politics. He left Syria because he would otherwise have to do military service: "fighting without knowing why or even against whom."
So he fled via Turkey and the Balkan route. "Hungary was hell. I had to hide in forests – from the police and their dogs. In Budapest I have found a traffikcer who organized the trip to Munich. The police seemed to know where the human traffickers are, but probably wanted to do nothing. It's none of my business. "
Ramy Kanaan misses his family and the sea and his city of Latakia. In Germany, he would like to continue studying sport and winning swimming competitions. Like many young people Ramy is fan of FC Barcelona. But his enormous motivation impresses many like Gaby Ekkelboom: "I think there are not many people to whom swimming is as important as for Ramy When he started with us, I was very surprised that he took his Syrian swimsuit and bathing cap as he fled Syria. This shows the enthusiasm for his sport. " Ramy wants "to give back something to German society," and he wants to tell his story: "It is the story of a man who sport has helped to forget homesickness."