Brussels mayor deplores 'hooligans' who disrupted Place de la Bourse
Comments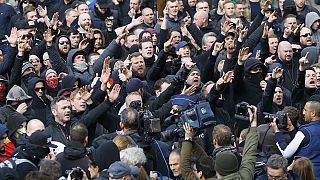 Several hundred protesters, many of whom appeared to be right-wing nationalists, disrupted a vigil in central Brussels being held to honour the victims of Tuesday's terror attacks.
The group descended on Place de la Bourse, where people were paying their respects and laying flowers, early on Sunday afternoon.
They chanted slogans denouncing the Islamic State (ISIL) militant group and criticising Belgium's immigration policy. Some made Nazi salutes.
The mayor of Brussels, Yvan Mayeur called the demonstrators "hooligans" and said he was "appalled at what has happened, to see that such scoundrels come here to provoke people at their place of homage."
Mayeur also said that they had come into Brussels from other towns, including Antwerp.
Dozens of riot police quickly arrived and encircled the demonstrators to isolate them from others on the square before later using water cannon to move them on.
Ten people were detained, police said.