Brussels: a city on edge after a week of terror
Comments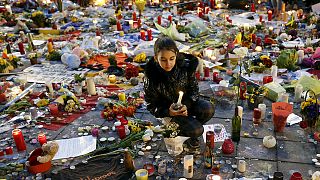 Amid a strong police presence, hundreds of people remained gathered in central Brussels on Sunday evening to pay their respects to the victims of Tuesday's attacks and take in the events of the last few days.
A peace march planned for Sunday was cancelled by the authorities, but a large group still congregated at Place de la Bourse in the early afternoon to contribute to a makeshift memorial of flowers, messages and flags.
The reflective atmosphere was disrupted when a group of several hundred apparent far-right protesters stormed the square at around 2 p.m. local time. Several arrests were made, and riot police dispersed the demonstration with water cannon.
Euronews correspondent Efi Koutsokosta reported from Place de la Bourse: "In spite of the fact that Belgian authorities cancelled the 'March against Fear' for security reasons, and in spite of the incidents that followed, hundreds of people have stayed here to show exactly that – that they are taking a stand against fear and remain united."
One Muslim woman told euronews: "I was born in Belgium, my parents have been in Belgium for almost 60 years."
"We want peace. And the people (protesters who stormed Place de la Bourse on Sunday afternoon) who came here, didn't want peace "
Another woman criticised the decision by the Belgian authorities to postpone the 'March against Fear' rally.
"For me, it's like saying they're right, it's like giving credence to the terrorists," she opined.
With people gathered in the square, laying flowers and tributes, one visitor to the city said it was time to start looking ahead.
"I understand people want to mourn for a few days but then you need start tackling the problem," he told euronews.
With tears in her eyes, a Belgian woman despaired over why Brussels had been targeted, saying: "Belgium is not exactly America. We have free immigration, we give people social money and education.
"Why us? We didn't do anything. We just lived together."