Ireland marks centenary of 1916 Easter Uprising
Comments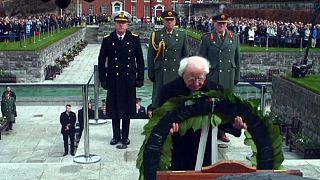 Ireland has been commemorating the centenary of the 1916 Easter Uprising.
While the revolt against British rule failed – it was quashed within days and its leaders were executed – it galvanised the Irish independence movement and paved the way for the creation of the Irish Republic.
On Saturday, Irish President Michael Higgins laid a wreath during a remembrance ceremony in Dublin and met relatives dozens of the people who died. Prime Minister Enda Kenny and Deputy Prime Minister Joan Burton also took part in the ceremony.
It is important that we bear witness this Centenary year to all those who gave their lives during Easter 1916. pic.twitter.com/9FLvmbPE0I

— Enda Kenny (@EndaKennyTD) March 26, 2016
With father and son. pic.twitter.com/Z8YfzF11s7

— Enda Kenny (@EndaKennyTD) March 25, 2016
Higgins said it was right to honour the centenary, rejecting the suggestion by some that doing so could fuel dissident Republican violence.
"I don't agree with this at all (that celebrating the Easter Rising centenary could encourage Republican violence). The most useless thing, I think, is to affect some kind of amnesia. Amnesia wouldn't work," Higgins said.
"You really have to, if you're involved in the ethics of memory, you have to transact it. So therefore you recognise it and you look at the complexity. And that's when you must be open to the different narratives that must be."
Over 4,000 Relatives of the men and women who took part in the events of the 1916 Easter Rising TheRDS</a> <a href="https://twitter.com/hashtag/Ireland2016?src=hash">#Ireland2016</a> <a href="https://t.co/YnIPRhIvjx">pic.twitter.com/YnIPRhIvjx</a></p>&mdash; Ireland 2016 (ireland2016) March 26, 2016