Clinton and Trump target each other at pro-Israel lobby conference
Comments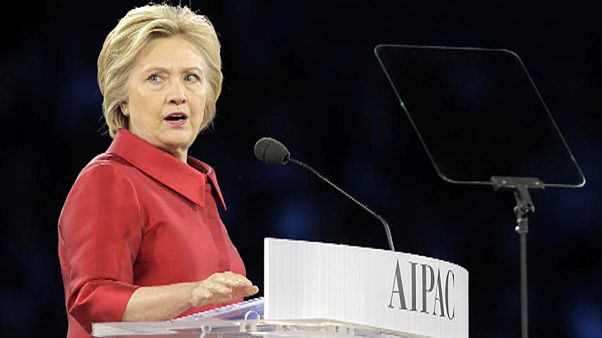 The Middle East became a major battleground of the presidential race in the United States on Monday, as the likely Democratic and Republican nominees attacked each other from the same stage in Washington – albeit eight hours apart.
The platform was the annual policy conference of the American Israel Public Affairs Committee (AIPAC), one of the most influential bipartisan lobby groups in the US capital.
Speaking in the morning, Democratic frontrunner Hillary Clinton waged a frontal assault on her likely Republican opponent Donald Trump, depicting him as an unreliable and unpredictable risk to Israel's security and US interests in the region.
Speaking in the evening, Trump, apparently using a TelePrompTer for the first time in this campaign, blasted Clinton and her tenure as secretary of state "a total disaster".
The Republican frontrunner promised to "dismantle" the Iran nuclear agreement and accused the Tehran regime of having already violated the "catastrophic" terms of the deal.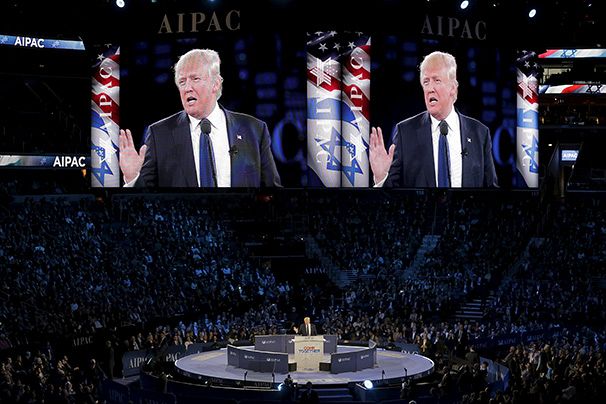 "I've studied this issue in greater detail than almost anybody. The biggest concern with the deal is not necessarily that Iran is going to violate it, although it already has, the bigger problem is that they can keep the terms and still get to the bomb by simply running out the clock", Trump said.
In a forceful denunciation, Clinton seized on comments Trump had made during a Republican debate that he would start to negotiate a peace deal between Israel and the Palestinians and that he would remain "somewhat neutral".
"We need steady hands," Clinton said. "Not a president who says he's neutral on Monday, pro-Israel on Tuesday and who knows what on Wednesday because everything is negotiable," Clinton said to thunderous applause. "Well, my friends, Israel's security is non-negotiable!"
"Some things aren't negotiable," she added later. "And anyone who doesn't understand that has no business being our president."
Clinton, a former senator from New York who has close ties to American Jewish communities, presented herself as staunch defender of Israel.
She said one of her first acts as president would be to invite the Israeli prime minister to the White House. She downplayed the tensions between President Obama and Prime Minister Benjamin Netanyahu, but said it was time to take the US-Israel relationship to "the next level."
Trump out-matched the "next level"-idea by pledging to move the US embassy from Tel Aviv to Jerusalem – something all US administrations since Harry Truman have refused to do, as the city is not recognized as Israel's capital by the international community and hosts no foreign embassies.
Historically, American Jews have supported Democratic candidates for president by large margins. More recently, though, many of them voted Republican, especially evangelicals who feel a strong biblical affinity to Israel.
But Trump may not benefit from this support, as his ambiguous remarks about Israel have raised some red flags among Israel's supporters in the US.
Just hours before his AIPAC speech, Trump said in a press conference that he would not exclude cutting foreign aid to Israel, if he becomes president.
In addition, Trump's other controversial positions on immigration and minorities as well as his raucous campaign events have created unease and disdain among American Jews.
A group of anti-Trump rabbis organized a protest outside the conference venue that was followed by several hundred people.