US hotelier Starwood taps into Cuba tourism boom
Comments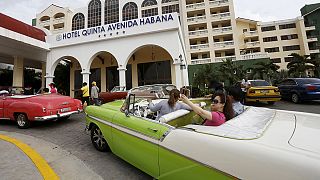 US-based Starwood has signed a deal with Cuba's government to run two nationalised hotels in Havana.
It will spend millions to modernise the Inglaterra the city's oldest hotel property and the Fifth Avenue Hotel in upscale Miramar, becoming the first American company to invest heavily in Cuba since the 1959 Communist revolution.
The US Treasury Department has exempted Starwood from Washington's economic embargo.
Jorge Giannattasio, Chief of Latin America Operations with Starwood Hotels & Resorts said: "We are extremely excited to share the news that Starwood is going to be first in Cuba. We will operate two hotels here in Cuba, one under the Luxury Collection brand and the other one for our Four Points by Sheraton brand."
The company also signed a letter of intent to run the Hotel Santa Isabel in La Habana Vieja.
Starwood joins other foreign hotel chains operating some of the island's larger and more luxurious hotels. Government operated hotels have a reputation for poor service and run-down infrastructure.
At the same time Booking.com's parent company Priceline Group became the first US online travel agency to strike a deal with Cuba's government making hotel rooms available to US customers.
However the problem is the limited amount of accommodation – just 63,000 hotel rooms for the entire island.
Starwood's Jorge Giannattasio explained visitor numbers surged nearly 20 percent last year: "Havana today is full. They receive more than four million tourists per year, 3.9 million last year and this year it is going to be much more with the application of probably more than 100 daily flights from the US If that happens, clearly the amount of travellers to Havana and Cuba will skyrocket."
Addressing that hotel room shortage, online lodging service Airbnb has been renting private dwellings to Americans, adding 4,000 homes over the last year, making Cuba its fastest growing market. It also received special authorisation from the US government to do that.
Now Washington has extended that permission so Airbnb can open up the Cuba market to travellers from the rest of the world.