Ten years of Twitter, but still no profit
Comments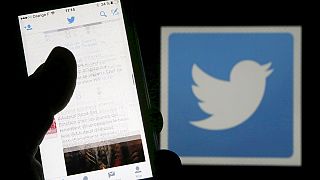 It is exactly 10 years since social media website Twitter came into being.
Jack Dorsey, one of the founders sent out that first ever tweet.
just setting up my twttr

— Jack (@jack) 21 de marzo de 2006
Dorsey is now back running the company after various executive upheavals.
Twitter has had a big impact on internet culture, including the use of the 'hashtag', but its financial road had been a rocky one.
Since the company launched on the stock market in 2013, investors have been disappointed by slowing user growth and the share price has slid to record lows.
Digital industry watcher Markus Beckedahl, Chief Editor of Netzpolitik.org, said: "For many people Twitter is primarily a news channel. A news channel made up mainly of words, of text. People who want something more audiovisual and visual information tend to go first to Snapchat or YouTube or Facebook."
Even as more famous people join and it becomes a force in breaking big news events, the company lost $521 million dollars last year, on turnover of $2.2 billion.
Advertisers want more users and deeper engagement by them.
Trying to address that in recent months Jack Dorsey has introduced a number of changes including
making the site easier to use, responding to criticism it is too complex.
And – more controversially – Dorsey has experimented with changing one of Twitter's signature features, expanding the 140-character limit of tweets.