Earth Hour: Lights out for the planet
Comments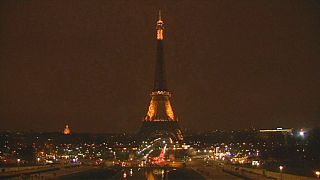 Some of the world's most iconic landmarks were plunged into darkness on Saturday for the 10th annual Earth Hour, a global lights-out event to highlight the threat from climate change.
Organisers hope this year's switch off will mark a new momentum in climate action after the breakthrough agreement struck by world leaders in Paris in December.
The Sydney Opera House, the Eiffel Tower and the Kremlin were among more than 350 landmark buildings to take part in the global effort.
The UN headquarters in New York turned off the lights.
#ChangeClimateChange! UN Headquarters in NYC went dark for #Earthhour on Saturday! Message: https://t.co/L34HPKY8hYpic.twitter.com/2nbVESfQ9r

— United Nations (@UN) 20 mars 2016
As did Britain's Houses of Parliament.
Houses of Parliament marks #EarthHour#EarthHour2016#changeclimatechange#Londonpic.twitter.com/cnL70bxIk3

— HuffPost UK (@HuffPostUK) 19 mars 2016
World leaders lending their support included Canada's Prime Minister Justin Trudeau.
We're all on this planet together. During #EarthHour and every day thereafter. Read more: https://t.co/0IPjVRfM0Xpic.twitter.com/OdJnAAwKnd

— Justin Trudeau (@JustinTrudeau) 20 mars 2016
This year's theme was a celebration of "Places We Love," such as beaches, forests, reefs, snow-capped mountains and rivers which could be at risk from climate change.
Earth Hour Global executive director Siddarth Das said in a statement that the world is at a "climate crossroads".
"Earth Hour reminds us that while people are on the frontline of climate change, they are also our first line of defence," he said.
"Our actions today, as individuals and the global community, have the power to transform what the world will look like for generations to come."