US theme park Sea World stops breeding killer whales
Comments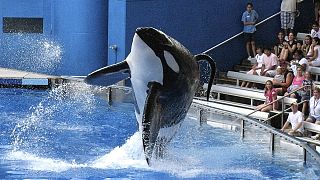 Bowing to years of pressure from animal rights activists, US theme park operator SeaWorld said on Thursday (March 17) it would stop breeding killer whales and that those currently at its parks would be the last.
Orlando-based SeaWorld has faced sagging attendance along with criticism about its treatment of the captive marine mammals, and some activists had called for the end of public exhibition of killer whales, or orcas, altogether.
SeaWorld, which has parks in US cities San Diego, Orlando and San Antonio, said in November it would replace its signature "Shamu" killer whale shows in San Diego with displays focused on conservation.
California regulators had earlier agreed to allow SeaWorld to expand its orca habitat at SeaWorld San Diego, but only on the condition that the company cease captive breeding and the transfer of new killer whales to the park.
SeaWorld had also faced a backlash after the release of the 2013 documentary "Blackfish," which depicted the captivity and public exhibition of killer whales as inherently cruel.
The company has sought to counter negative publicity surrounding "Blackfish" with a public relations blitz aimed at drawing attention to SeaWorld's role in marine mammal research and its rescue and rehabilitation of animals in the wild.
Some activists had called for SeaWorld to release its orcas into coastal sanctuaries. However, SeaWorld has said that whales raised or born in captivity would likely die in the wild.
SeaWorld also said it would partner with the Humane Society of the United States to educate visitors. It has also set aside $50 million to advocate for an end to commercial whaling and seal hunting as well as the killing of sharks for their fins over the next five years.
Reuters