Russian world champion Efimova faces life ban after testing positive for meldonium
Comments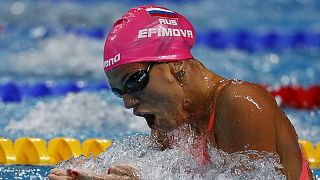 Four-time world swimming champion Yulia Efimova could face a lifetime ban as a repeat doping offender as reports she tested positive for meldonium were confirmed on Thursday.
The 23-year old, who won a bronze medal at the 2012 London Olympics, recorded the adverse analytical finding in an out-of-competition doping test, Russian news agency TASS reported earlier.
Efimova is the latest high-profile name to join the growing list of Russian athletes who have tested positive to meldonium after it was added to the World Anti-Doping Agency's (WADA) banned list at the start of the year.
"The All-Russian Swimming Federation informs that we received documents from the International Swimming Federation (FINA) which confirm that the sportswoman has been temporarily suspended from competition due to the possibility of breaking anti-doping regulations," ARSF said in a statement.
"In order to clarify information concerning the current situation as quickly as possible, ARSF president Vladimir Salnikov will meet with the heads of the Russian swimming team and the Russian Sports Ministry."
Efimova previously failed an out-of-competition doping test in 2013 for the banned anabolic steroid DHEA, which speeds up metabolism and improves weight loss.
FINA handed her a 16 month suspension for the infraction, shortened from two years, after Efimova argued she had only inadvertently ingested the substance after taking some tainted dietary supplements.
Efimova's claim has since been disputed, however, after it emerged DHEA had been clearly listed as an ingredient on the packaging. FINA declined to reconsider the case, maintaining the breaststroke specialist was simply "negligent".
As part of her sanction, Efimova was also stripped of her five titles won at the 2013 European championships, but FINA came under fire for imposing a lenient ban which conveniently allowed her to compete at the 2015 world championships in her home country, where she won two medals.
FINA is now expected to take steps to ban Efimova from all international competition for life, unless significant mitigating circumstances arise.
It is thought a sanction less severe could result in an appeal by WADA to the Court of Arbitration for Sport, while serious questions would also be raised over FINA's handling of doping cases.
Neither a FINA nor a WADA spokesperson was immediately available for comment on Efimova's case.
FINA has often come under fire for inconsistencies in its anti-doping procedures, most notably in 2015 when officials from swimming's governing body waited almost two years before informing Australia's 2008 Beijing Olympic champion Kylie Palmer she had failed a doping test.