French GDP not seen as enough for jobs growth
Comments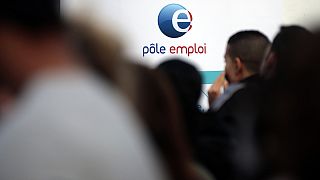 There was more bad news for the French government on its efforts to cut the country's persistently high unemployment.
France's central bank has said economic growth this year will be below the eurozone average of 1.4 percent.
That is significant because economists have said GDP growth of 1.5 percent is the minimum needed to reduce the jobless totals given the large number of young people entering the labour market.
President Francois Hollande has staked his bid for re-election next year on a promise to reduce joblessness, which remains stuck above 10 percent.
The Paris government has been sticking to a forecast of 1.5 percent for this year and has focused on a set of changes to its employment laws in the hope they will stimulate hiring and economic activity.
But faced with street protests, union opposition and a rebellion on the left of the ruling Socialist Party that plan seems to be unravelling.
The growth prediction from Bank of France Governor Francois Villeroy de Galhau's came just one day after Hollande's government was forced to water down some of those pro-business reforms.