Qatar Airways adds 14 new routes
Comments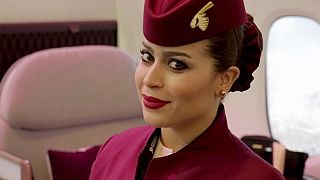 Despite falling oil prices putting pressure on their economies, the ever expanding Gulf region airlines continue to add planes to their fleets and destinations to their schedules.
The latest growth move came at the ITB travel fair in Berlin from Qatar Airways, which is aggressively taking on European and North American carriers.
Akbar Al Baker, the CEO of Qatar Airways told euronews: "We have announced 14 new destinations; among them is Krabi in Thailand, the Seychelles, we are going to go to Windhoek in southern Africa, which is the capital of Namibia, we are going to Finland, we are expanding in Central and Eastern Europe, and other parts in South Eastern Asia."
Qatar Airways currently flies to 150 destinations.
The Gulf carriers reject the complaints of US rivals that their expansion is fuelled by "hidden subsidies" from their governments.
They continue to outstrip European and US airlines in order terms.
Qatar alone, with a fleet of 176 planes has 320 more on order and it currently takes delivery of one new aircraft on average every 10 days.