Merkel comes under pressure to change her migrant policy
Comments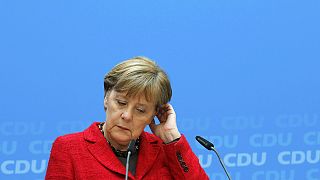 Merkel's

CDU

punished at the polls
Party lost votes in three regional elections
Right-wing Alternative for Germany made strong gains
Merkel under pressure
Breaking: Angela Merkel suffers dramatic setback in regional elections https://t.co/z2aKNpg7Orpic.twitter.com/kTpY1nA8NU

— Financial Times (@FT) March 13, 2016
The German Chancellor is coming under pressure to change her policy on migration.
This is a tectonic shift in the political landscape in Germany
It comes after voters in three regional elections punished her party at the polls by flocking to Germany's new anti-immigration party.
Angela Merkel's refugee policy faces its first test at home https://t.co/BrEzeasnWLpic.twitter.com/o1ZY1OSuIW

— The Economist (@TheEconomist) March 11, 2016
Angela Merkel's Christian Democrats (CDU) lost support in all three states: the industrial state of Baden-Wuerttemberg, the wine-growing region of Rhineland-Palatinate and the eastern state of Saxony-Anhalt.
Angela Merkel's conservatives take a beating in state elections https://t.co/tUj7LVBBVHpic.twitter.com/R0X4wSJh6k

—

POLITICO

Europe (@POLITICOEurope) March 13, 2016
The right-wing Alternative for Germany (AfD) took a quarter of the vote in Saxony-Anhalt, making it the second biggest party in the state.
The party also made strong gains in the other states.
Germany's migrant story
1.1 million migrants accepted in 2015
Hundreds of thousands more expected this year
Some in Germany fear their country is being overrun by migrants with cultures that are vastly different to their own.
Angela Merkel has vowed to press ahead with her plan to find a Europe-wide solution to the refugee crisis.
Speaking on Monday, she said there is "no question" that Germany has benefited from the closure of the new Balkan migrant route north into Europe.
What the papers say
"AfD victory shocks German politics"
"The Republic shifts to the right"
"Angela Merkel has experienced a 'crushing defeat' on this super-torturous election Sunday, but will likely stick to her political course. The price for this will be a deeply divided conservative group." – Bild editorial.
What they are saying
"The landscape in Germany changes, we now have a party on the right wing. In former times, we only had big, conservative parties, but now we have a small, right, populist party and that is new for Germany," – Gero Neugebauer, Berlin Free University
"The main reason is the migrant policy, it does not make sense to talk around it and we will need a long time to reverse the developments of the last six months – which means a tectonic shift of the political landscape in Germany," – Horst Seehofer, leader of Bavaria's CSU, a sister-party to Merkel's CDU.