A fresh round of Syrian peace talks gets underway in Geneva
Comments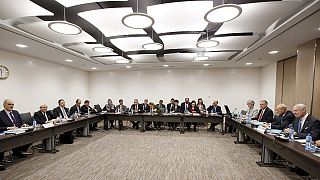 The only Plan B available is a return to war
"A moment of truth" – de Mistura.
Adversaries not meeting face-to-face
Conflict began five years ago this week
A moment of truth
Happening now: update from UN Syria Envoy Staffan de Mistura on #SyriaTalks in Geneva
Live: https://t.co/TMoKiPmFcwpic.twitter.com/U9Pc80owSm

— UN Geneva (@UNGeneva) March 14, 2016
A fresh round of Syrian peace talks have got underway in Geneva.
The two sides are not meeting face to face. Instead, UN negotiator Staffan De Mistura is starting the talks by meeting with the Syrian government delegation.
The UN-brokered talks represent the first serious diplomatic intervention since Russia began air strikes in September.
Syria war: "'This is the moment of truth," says UN envoy https://t.co/L7o97cZkxcpic.twitter.com/KEyyZtS65x

—

AJE

News (@AJENews) March 14, 2016
De Mistura says Syria is facing "a moment of truth". He has described the thorny question of political transition as the "mother of all issues".
He has said would like presidential elections to be held within 18 months.
Syrian Foreign Minister Walid Muallem has ruled out any discussions over the future of President Assad.
But neither Syria's government nor the opposition appear ready to compromise over the future of President Assad.
However, the main Syrian opposition alliance is adamant he must go.
The latest diplomatic disagreement began when Mr Muallem said talk of a fresh presidential election was off the agenda.
The main Syrian opposition umbrella group, the High Negotiations Committee (HNC) said such pre-conditions could halt the talks before they began.
The first round will end around March the 24th, followed by a break of 7-10 days.
There then be a second round of at least two weeks before another recess and a third round.
Fragile truce is holding
A cessation of hostilities came into force late last month. Observers said peace talks between the warring sides and their foreign backers could not continue without a truce.
It includes fighters linked to ISIL and al-Qaeda.
An estimated 250,000 have been killed and 11 million displaced in the conflict.
It began with an uprising against President Assad five years ago this week.
What they are saying
"As far as I know, the only Plan B available is a return to war, and to even worse war than we had so far." – UN Representative Staffan de Mistura.