Venezuela opposition launches fresh push to oust Nicolas Maduro
Comments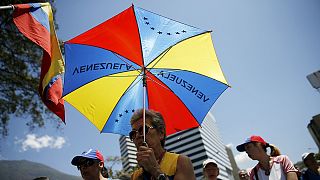 The opposition in Venezuela has launched a new drive to oust Socialist President Nicolas Maduro.
Saturday's big rally in Caracas was passionate but peaceful. Anti-Maduro protests two years ago turned violent, leaving dozens dead.
Now in control of Congress, the opposition is exploring different ways of removing Maduro, including moves to trigger a referendum on the issue.
"I am here with my signature, my presence and my voice to call for an end to this corrupt president who has ruined Venezuela," said university teacher Patricia Rivon, one of those signing up to call for the plebiscite.
"This is a message that we are sending to the world, that Venezuela has had enough, enough of Maduro," said fellow opposition protester Enrique Alvarado.
"The people have come onto the street and won't return home until Nicolas Maduro resigns."
But at a rival rally in the capital, the man himself was keen to show that he had different concerns – notably President Obama's renewal of sanctions on senior Venezuelan officials.
From a stage, speakers blasted out "Yankee Go Home" and a recording of the national anthem sung by former leader Hugo Chavez, who died of cancer in 2013, before Maduro gave a thundering speech blasting Obama and his domestic foes.
"We're not asking for anything, no favours," Maduro said.
"We're asking for what's rightfully ours: for Venezuela not to be threatened by a foreign government, for Venezuela not to be threatened by the Yankee empire."
But as well as anti-Obama feeling there is also anger at Venezuela's recession.
And, lacking the charisma, oratory and financial muscle of his popular predecessor, Maduro has failed to inspire the enthusiasm of Chavez's rule.
What is more, although thousands on both sides took to the streets of Caracas on Saturday, neither march recalled the passionate rallies of recent years, with many Venezuelans now exhausted by an economic and social crisis that seems to be worsening.
Maduro is part of Venezuela's problem, but the opposition can't get rid of him https://t.co/hrXjs1x5Tnpic.twitter.com/9cQN4A1USF

— Bloomberg Business (@business) 3 mars 2016