UN votes to repatriate peacekeepers accused of sex abuse
Comments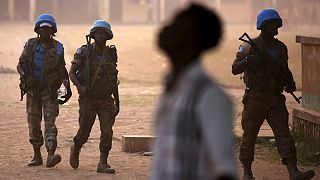 The United Nations Security Council on Friday adopted its first resolution to tackle the growing scourge of sex abuse by peacekeepers, backing Secretary-General Ban Ki-moon's recommendations to repatriate units whose troops face allegations.
There were 14 votes in favour of the resolution. There were no votes against, although Egypt abstained.
#UNSC endorses steps to combat sexual exploitation by @UN peacekeepers https://t.co/YXl0S8DASepic.twitter.com/rASNc2Rw4R

— UN News Centre (@UN_News_Centre) 11 mars 2016
During the drafting process, council diplomats said the US text had encountered resistance from Russia, Egypt and some African countries that contribute military personnel to UN peacekeeping missions.
The United States, however, rejected claims that the real aim of the resolution was to attack troop contributing countries.
"My ulterior motive is actually to finally do something about a cancer, the cancer of sexual exploitation and abuse against people who trust the blue flag," US Ambassador to the UN Samantha Power told the Security Council.
"They see a peacekeeper coming their way and they think: 'This is somebody who is going to help me.' They don't think: 'I have got to run. This is somebody who is going to rape me'. That is not what they think or what they should ever think."
UNSC just adopted groundbreaking res agnst scourge of sex abuse by UN peacekeepers—impt UNSC takes responsibility to tackle this grave crime

— Samantha Power (@AmbassadorPower) 11 mars 2016
The United Nations has over 100,000 troops and police in 16 peacekeeping missions around the world. But their work has been overshadowed by a marked rise in claims of sexual exploitation or abuse.
The UN last week reported 99 allegations that UN staff took part in sexual exploitation or sexual abuse in 2015. That marked a sharp increase from the 80 allegations in 2014 across the UN system.
The majority of cases in 2015 – 69 in all – involved personnel in 10 peacekeeping missions.
Many recent allegations have focussed on international peacekeeping units in the Central African Republic.