Tsipi Livni urges moderate Muslims to unite against extremism
Comments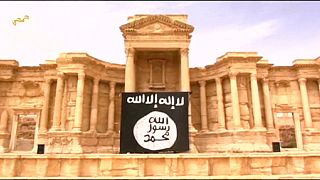 Syrian Army said to be on verge of retaking Palmyra

ISIL

uploads footage of "US
Tsipi Livni urges moderate Muslims to unite
Israeli former foreign minister Tsipi Livni has urged moderate Muslims to unite to tackle the threat posed by extremism.
It is not a religious war, between the Islamic world and others
Tsipi Livni spoke to Euronews at the 4th Global Baku Forum:
"It is not a religious war between an islamic world and the others, it is between these extreme Islamist groups that explain or that are translating religion – the Islamic religion – into something which is not, and therefore I believe that the moderates, those that believe that this Islam is something different, need to fight together against them.
#4GlobalBakuForum is finished.
Looking forward to keep working together
Thx NizamiGanjaviIC</a> <a href="https://twitter.com/VairaVF">VairaVFI_Serageldin</a> <a href="https://t.co/lIQfSwLbvi">pic.twitter.com/lIQfSwLbvi</a></p>&mdash; Zlatko Lagumdžija (LagumdzijaZ) March 11, 2016
Syria – the latest
Russian-backed Syrian army forces are said to be closing in on the historic city of Palmyra.
The Russian air force has pounded the ISIL-held city with dozens of air strikes since Wednesday. Fighting is now said to be within seven kilometres of the centre.
The aim is to open a road to the eastern province of Deir al-Zor.
#SyrianArmy destroys #Daesh command center, firing positions near #Palmyrahttps://t.co/KUFTil9QT9#Syriapic.twitter.com/eNHrwnBy1L

— Sputnik (@SputnikInt) March 11, 2016
Human rights activists, meanwhile, say rebel fighters have recaptured a northern Syrian town from ISIL.
The UK-based Syrian Observatory of Human Rights says opposition fighters have regained control of Karakoubry in northern Aleppo province.
Video footage uploaded to the internet appears to show rebel groups in control of the town.
ISIL, meanwhile, have uploaded video footage of what it says is the aftermath of US air strikes on Syria and Iraq on Thursday.
Several buildings can be seen reduced to rubble in the video, which ISIL claims was shot in their strongholds of Raqqa in Syria and Mosul in Iraq.
There are also scenes inside what is said to be a hospital in Mosul and of the burning of books from a Christian school in the city.